Alaska's Stonewood Lodge
All Inclusive Luxury Wildernesss Lodge 
Gallery     Activities     Trip Categories       Locations     Corporate/Private Groups     Booking
Choose a Built Out Adventure or Create Your Own! All trips at Stonewood Lodge include guided activities, food & lodging. Choose a trip from our pre-set adventures or build your very own Alaska dream trip by booking the Stonewood Lodge: Build Your Adventure (activity options listed below).
World class fishing and recreational opportunities abound in a true wilderness experience here in Alaska. The location of Stonewood Fishing Lodge could not be better–nestled on the shores of beautiful Lake Clark and within the Bristol Bay watershed. Lake Clark Alaska is a piece of paradise and there are few places in the world that compare to the all around beauty, adventure, and exceptional fishing. This watershed is the most productive commercial and sport fishing region in the world and is also Alaska's only designated trophy Rainbow Trout area.
At Stonewood Lodge, you will find all the qualities of a world class recreational and sport fishing lodge. Our lodge has a classic yet rustic feel and offers 10,000 square feet of contiguous space and all modern amenities rarely found off of the road system in Alaska. Our guests stay in the main lodge and rooms have a queen and twin in the room as well as a private in-suite bathroom. The lodge has in floor heat thermostatically controlled, 24 hour electricity, telephone services, and Wifi. We do encourage some of our remote outpost camps for some overnight accommodations on site, such as while on the river and to shorten travel times to and from the lodge. These excursions are your choice as you decide your daily routine. There is an adjoining den, library, fly-tying area, office desk, sauna, and recreational room open for conferencing and debriefing. The Lodge capacity is 28 guests, however we generally settle on small groups of less than 12 guests a week.
View Our Brochures
Instantly download our brochures.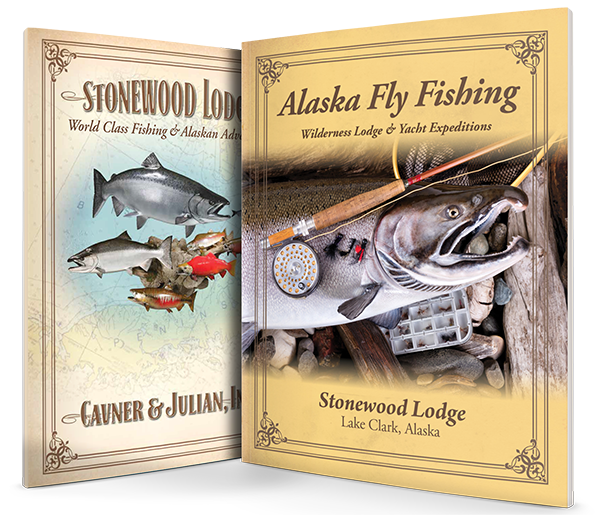 True Alaska Hospitality
Exquisite Dining
We serve the finest food at Stonewood Lodge—famous for our shore lunches and incredible dinners highlighting prime meats and fresh fish and seafood. Three full meals, plus snacks, are served daily.  Our spacious lodge dining room has a beautiful view of Lake Clark and surrounding mountains, providing spectacular scenery to compliment the meal experience.Begin your morning with a wonderful hearty breakfast served in the dining area as you gaze out on the lake and anticipate the days adventures.  There are plenty of options for breakfast from hot dishes or meats, fruits, eggs, yogurts, and pastries that will be sure to fill everyone up and provide the needed energy to start off your day.  Round out your breakfast with a glass of juice or a warm mug of coffee, tea, hot chocolate or apple cider. 
Fresh & Native Foods
Guests gather for hors d'oeuvres while dinner is prepared nightly with specially paired selections of fresh fish and seafood with prime meat cuts. Dinners will include features such as King Crab Legs or Dungeness Crab, Filet Mignon, Prime Rib, Alaska Shrimp, Steak, Halibut, Cod, Lamb, Duck, and Chicken. We serve every taste you could desire!   We also cater to special meal requests when you reserve your trip.
Personal Attention
Stonewood Lodge is a very comfortable and peaceful lodge gratifying to the express wishes of our few guests each week. Whatever your needs, you will be treated to an experience that you'd expect from any exceptional destination resort. We enjoy catering to many interests and our lodge is a location where you will find something for everyone in a family or group. At Stonewood Lodge we furnish as needed, any rods, reels, lures and flies as well as any foul weather gear, waders, and boots. You may also bring your own tackle. There is no additional equipment rental cost or cost for lures or flies.
Included Activities
Below Activities Are Included with a Stay at Stonewood Lodge (availability may vary).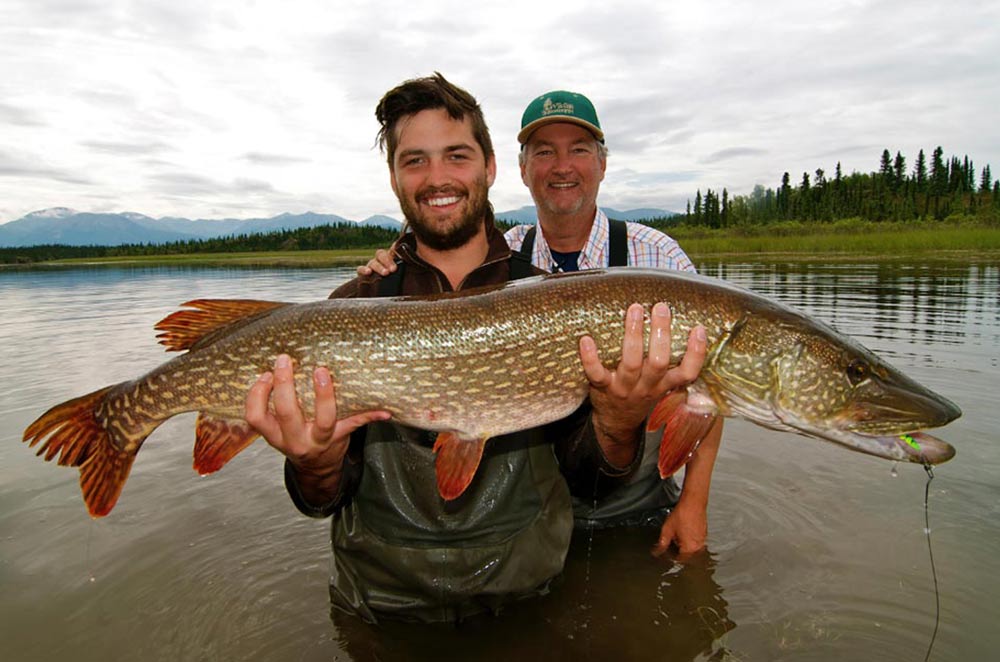 Trophy Lake Fishing
Welcome to World Class fishing! Nestled on the shores of beautiful Lake Clark, our lodge is within the Bristol Bay watershed—the most productive commercial and sport fishing region in the world, and is also Alaska's only designated trophy Rainbow Trout area. Northern Pike, Grayling, Lake Trout and Salmon species are fished from the lodge.  Additional species are fished with flyouts.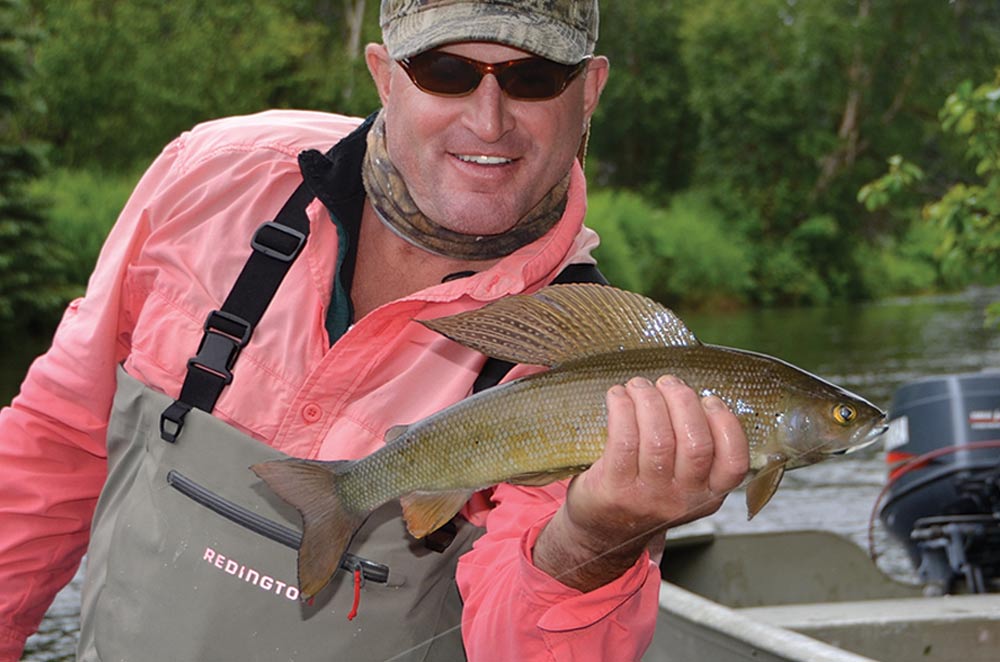 Lake Clark Fly Fishing
If you have never fished with a fly rod or need brushing up, it's no problem. We have quality equipment at no additional charge and our guides will teach you the art of fly fishing. Grayling is the perfect species to learn or practice on and just a short ride from the lodge. Catch trophy Rainbows at our Swiftwater Camp or by a flyout (learn more).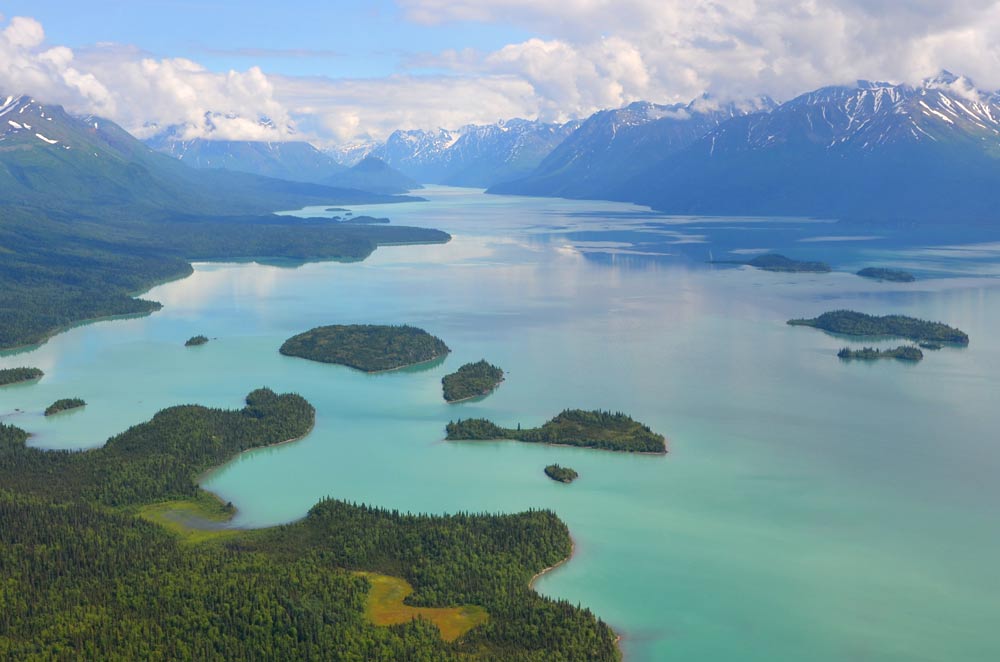 Lake Kayaking
Being over 50 miles long, your always find places to explore along Lake Clark's beautiful shores. Visit some of the many islands or just cruise along in the safety of the bay just off the shore of Stonewood Lodge. Stop and smell the wildflowers and visit homestead sites and look out for wildlife along the way—wherever you go the scenery won't let you down.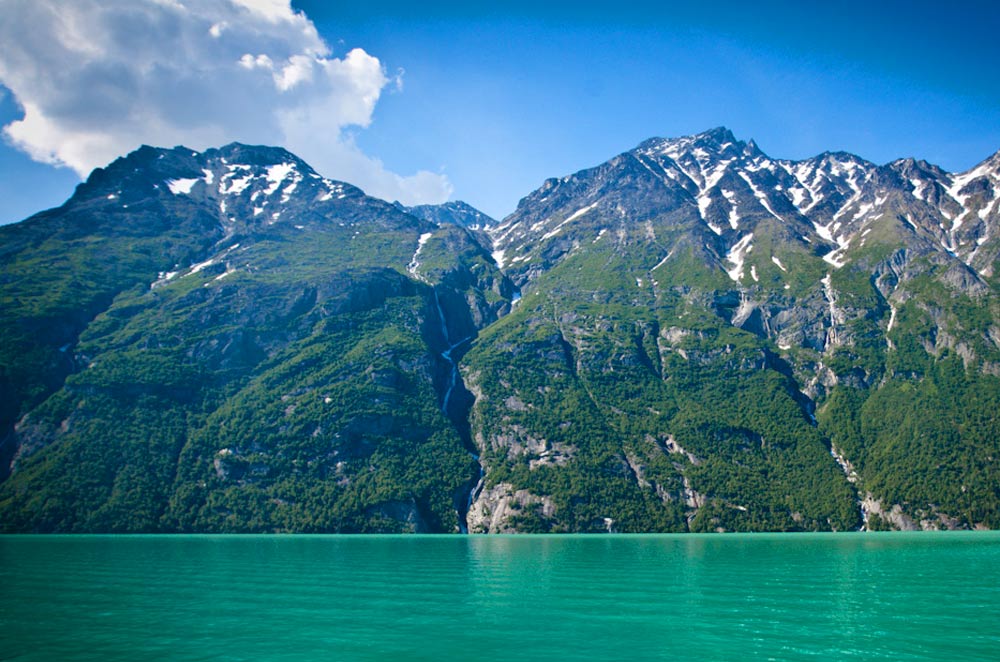 Scenic Boat Excursions
There are endless views to take in and pristine shoreline to explore throughout the 50 mile long Lake Clark. Cruise up to the headwaters of the Little Lake Clark where dozens of waterfalls cascade down the steep Alaska peaks or stop part way for short hikes to get up close to dramatic waterfalls and rivers.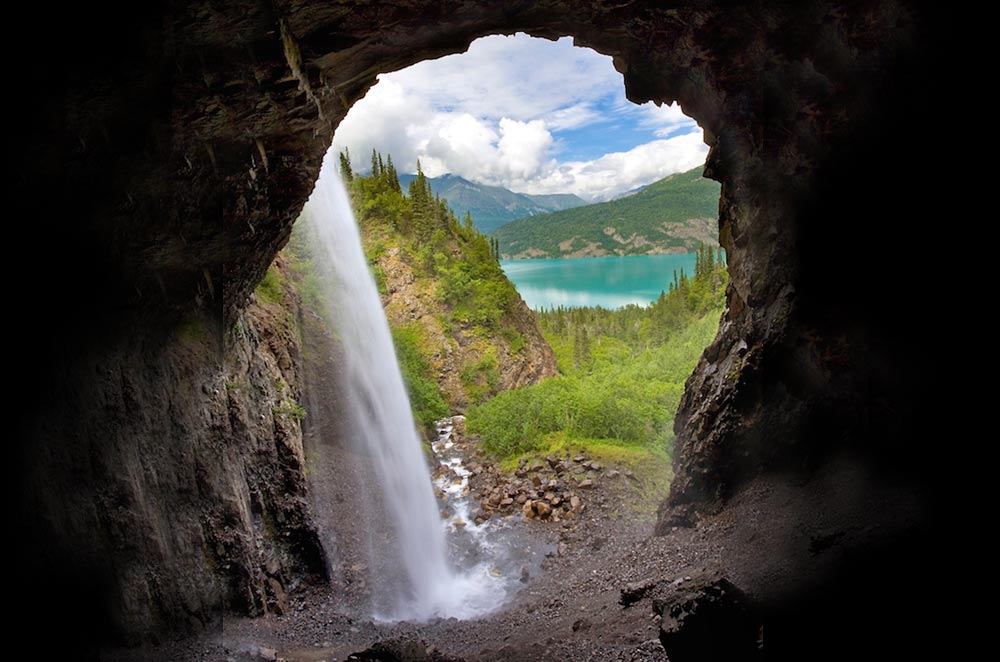 Photography Outings
Lake Clark is second to none for Alaska wilderness photography. We can focus your daily outing(s) in areas to capture the best of the park to help you meet your photography goals. And at day's end we can set up our conference room to view the fruits of your labor on a large screen. We also can set up additional flyouts for more opportunities.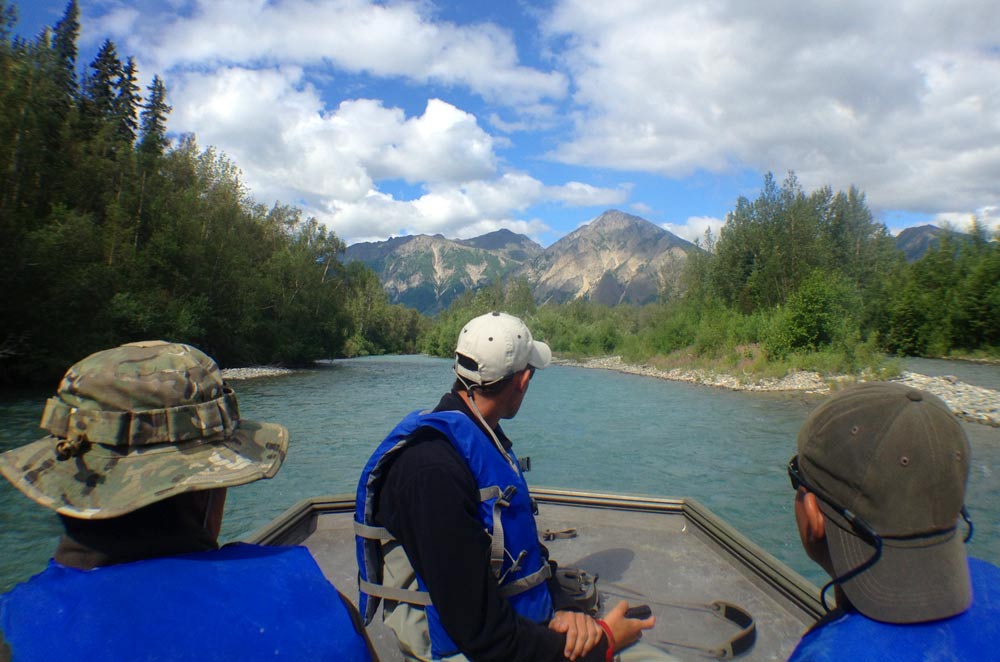 Jet Boat River Trips
Enjoy a relaxing ride along Lake Clark and then hold on for an exciting jet boat ride up an Alaskan wilderness river.  Feel the fresh breeze and take in the dramatic mountain panoramas as you experience this remote outing.  Request a delicious packed lunch from the Lodge kitchen for a scenic picnic or bring a pole for some fishing and create life long memories.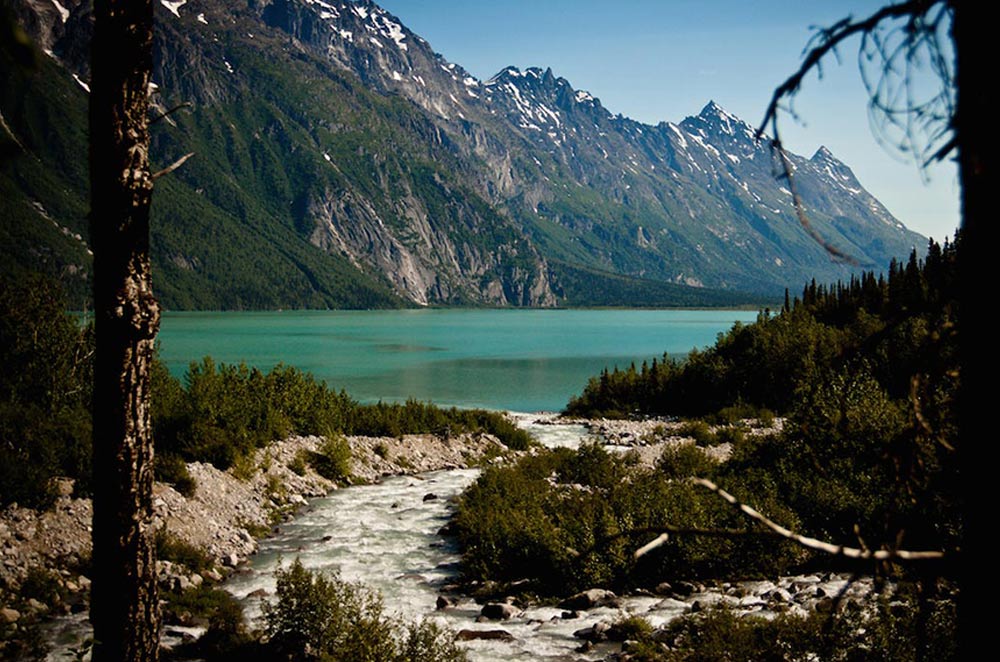 Overnight Campout
Are you up for a night out in the bush? We can set you up for an evening campfire or pitch some tents for you to enjoy a late night sunset in the Alaskan wilderness.  Explore pristine beauty where few people have ever set foot and soak up the wild and awesome surroundings—create memories to share over the dinner table for years to come.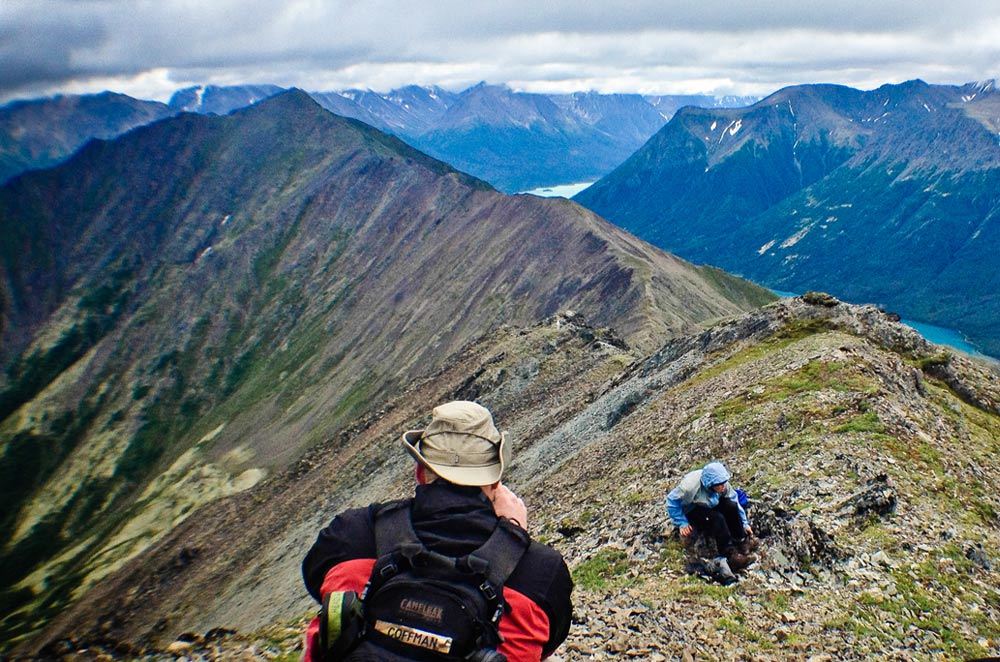 Summit Tanalian Mountain
Stretch your legs and earn an unforgettable Alaska panoramic view.  Hike one of the only trails in Lake Clark National Park to the summit of nearby Tanalian Moutain—one of the most scenic locations in the area. Don't worry about altitude because Lake Clark sits at only 250 feet above sea level.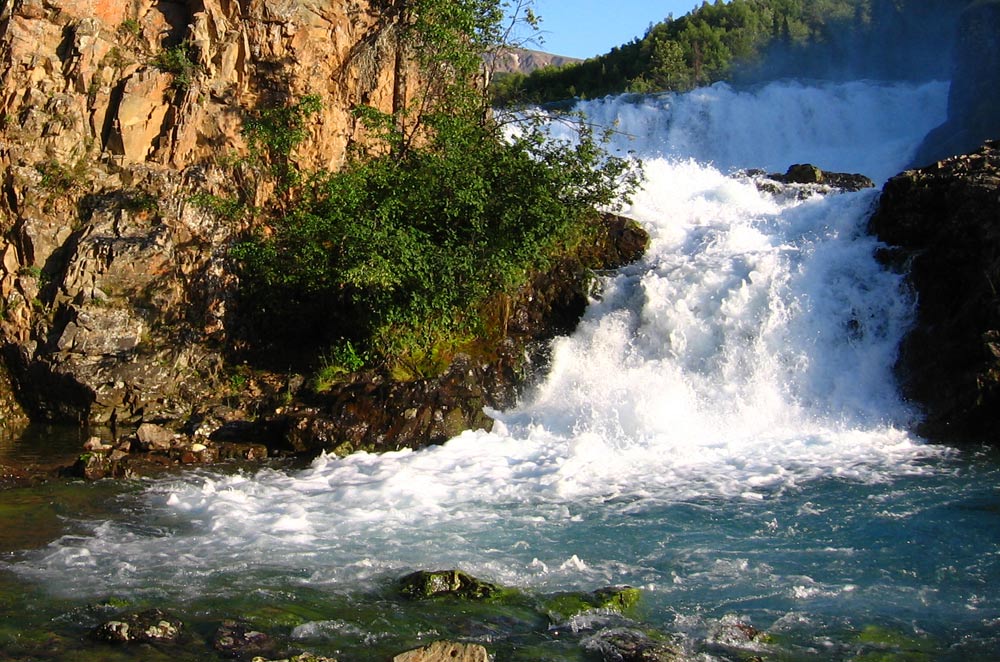 Tanalian Falls Hike
Enjoy a light but scenery-rich hike to the powerful Tanalian Falls. Along the way you will pass lush meadows, ponds and dense woods while walking on an established park trail. Relax at the falls, cast your fishing pole or opt to hike sightly further and explore the majestic Kontrashibuna Lake just up trail.
Pre-Built Adventure Options   Click on the image below to view trips by category.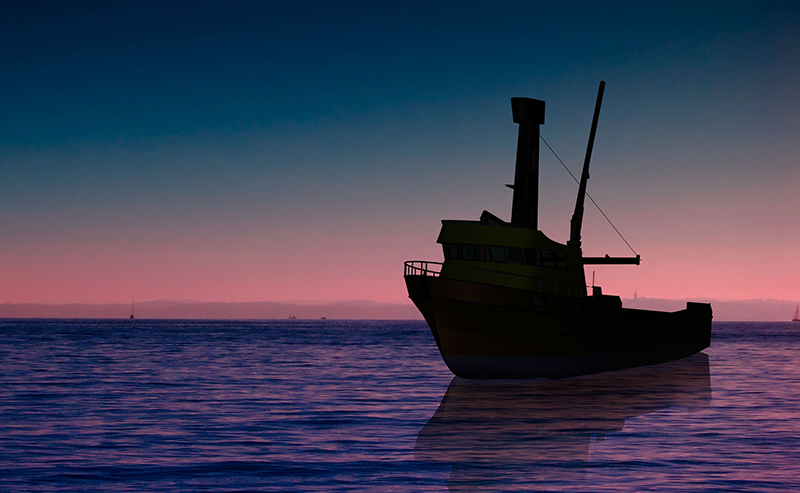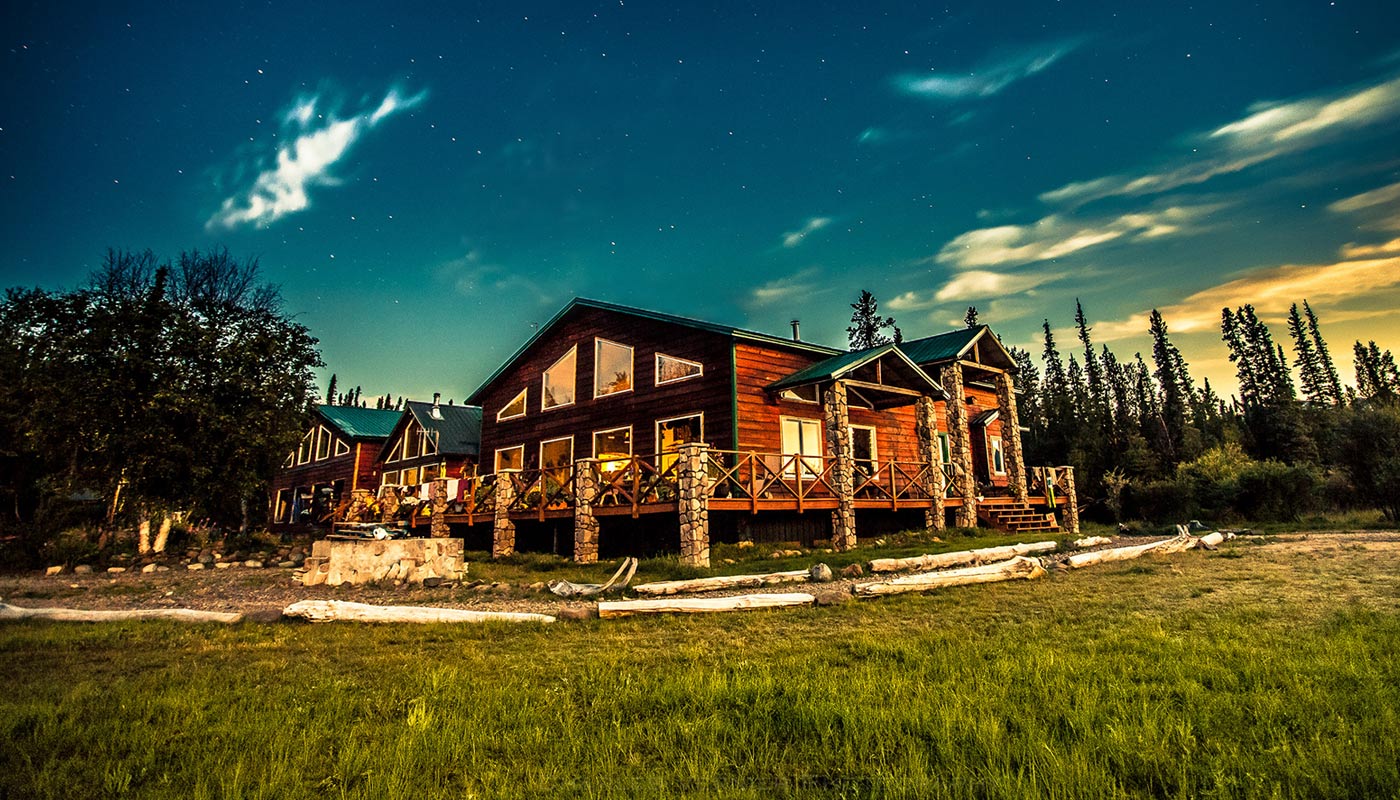 Our Location
We are a remote wilderness lodge on the shores of 50 mile long Lake Clark, located within the Lake Clark National Park and Preserve. This area is southwest of Anchorage within the Chigmit Mountains and at the edge of the Aleutian Mountain Range. The Lake Clark region is known by many to be Alaska's Switzerland because of the large surrounding mountains. These towering mountains lead many to believe we are at a high elevation when in actuality, we are at just 240 feet above sea level.
We invite you to visit us in Alaska at our world class recreational Stonewood Lodge where we strive to make each guest's stay personal, memorable, and fulfilling. You, as our guest, decide on a host of available daily excursions from fishing to bear viewing to sight seeing—our Lodge has something for everyone!  Each day of your trip brings new and exciting locations, pristine clear waters, and the thrill of adventure.
Stonewood Lodge in Lake Clark, Alaska
Stonewood Lodge in Lake Clark, Alaska
Private Rental Corporate Trips, Large Groups & Family Reunions.
Private Rental is available if you book 12 guests or more.  This means you will have the entire lodge for your private fishing party or group event. We are available and prepared to host weddings, corporate retreats, photography/sight-seeing groups, and geological or other survey groups. The lodge is comfortable and well positioned for many different activities and adventures, offering 10,000 square feet of rustic elegance all under one roof rather than multiple cabins. We are surrounded by unparalleled Alaskan beauty, and we believe this to be the best Alaskan destination off the road system.
Stonewood Lodge offers the perfect solution to combine business meetings and retreats with engaging adventure trips, fishing, and Alaska sight-seeing. We can tailor the time to your specific group's needs and desires—ensuring you have the time to accomplish your business needs while providing incredible opportunities to see this remarkable part of Alaska. Use this time to bring company directors together for leadership and business direction work sessions, entertaining prospective clients and prospective buyers, as a team-building trip to strengthen ties between fellow employees, or as a bonus to the hard-working employees in your business.
The lodge is set up with a large conference room that is great for work sessions, presentations, and business meetings. The rustic elegance of the lodge also offers a casual environment for members of your group to get to know one another better. There are many great and beneficial conversations to be had while out on the river or relaxing around the fireplace at day's end. We will ensure the lodge is ready for your group's arrival and that your stay with us will not only be an incredible Alaska getaway, but that it will be highly beneficial to your business. Our staff will see to your needs and we are committed to make this a memorable trip for your prospective clients, employees, or business directors.
Guests will have access to all the included activities listed above and are able to request add-on activities to create the most memorable Alaska adventure of a lifetime. Includes: Deluxe accommodations, modern amenities, gourmet meals, air Charter fees from Anchorage to the lodge, park and land use fees, guiding and fishing gear (as available by size). Not Included:  Fishing license, personal clothing and gear, tips and trip add ons.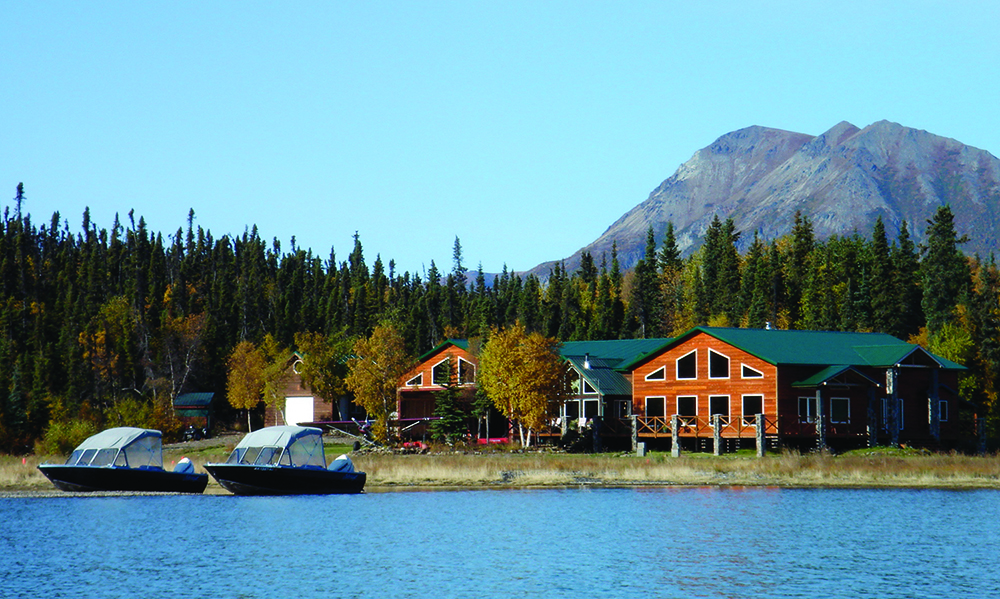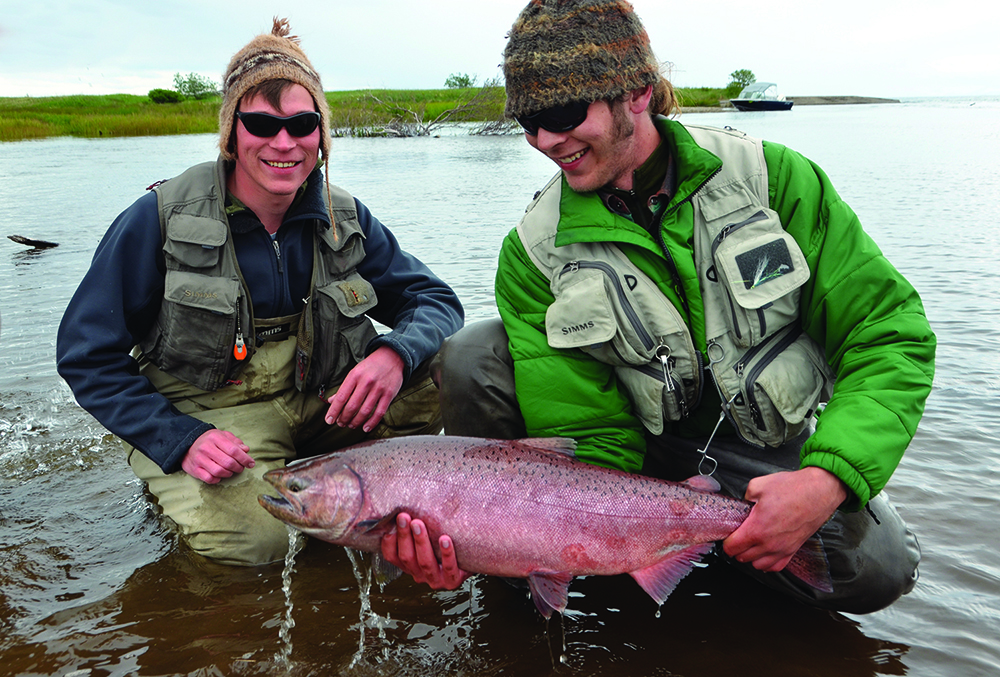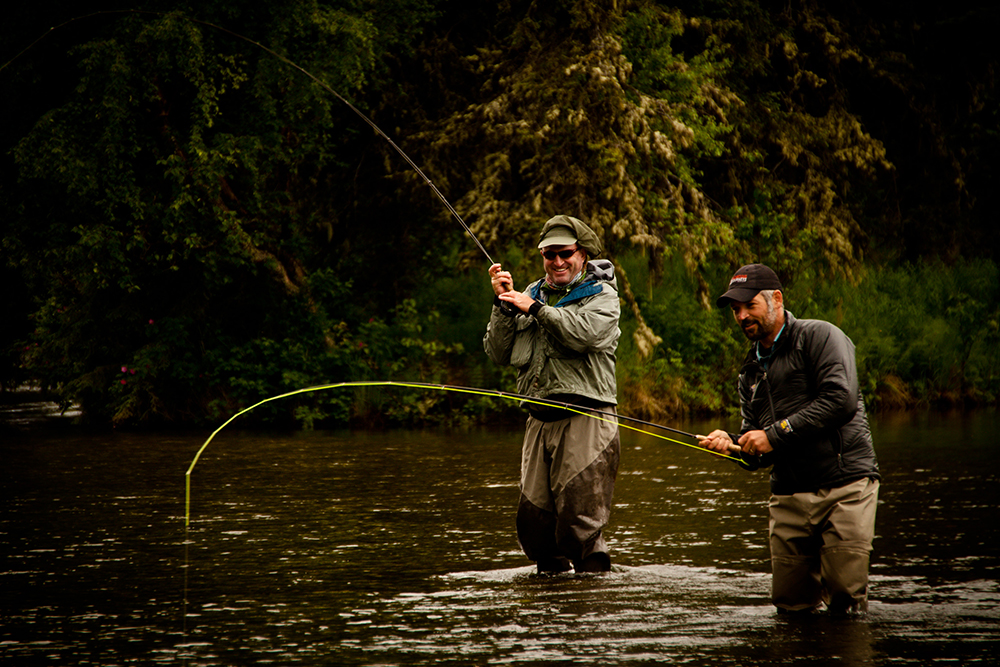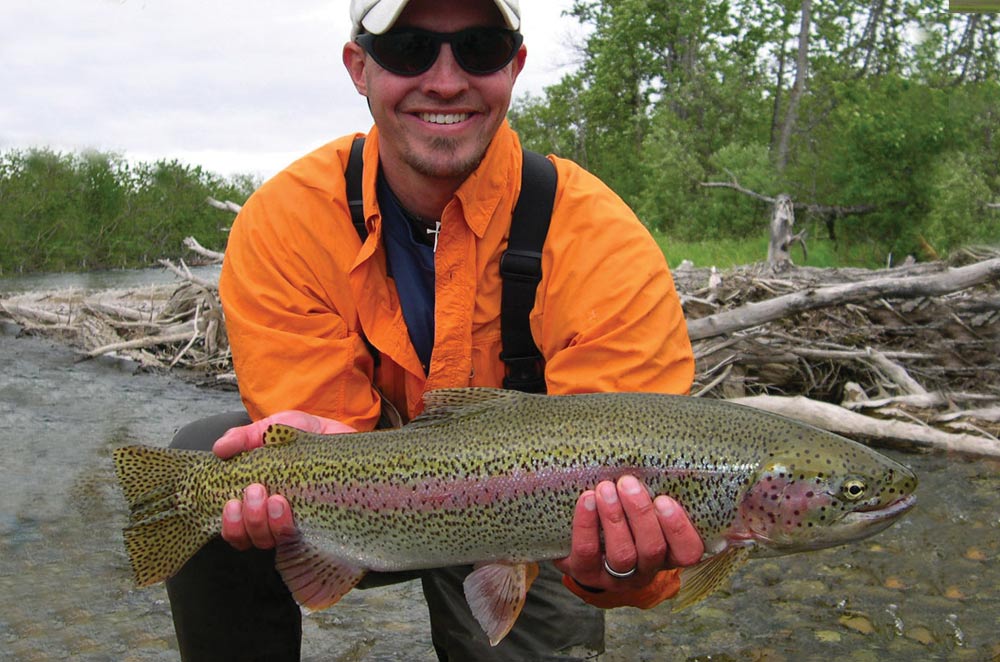 Make the Journey—Live the Dream.