DURATION: 7 days / 6 nights (custom adjustments available)
TYPE: All Inclusive Luxury Adventure
SEASON: Summer 
The perfect trip for those who want to view the iconic Alaska brown bears in their natural habitat and experience beauty of Alaska's vast bush country in a luxury lodge setting.  Find out why people call Lake Clark the quintessential Alaska wilderness adventure location. 
The world's best brown bear viewing takes place in Southwest Alaska. Come spend an unforgettable week in the pristine wilderness of Alaska and view some of the largest and most entertaining bears brown bears in their natural habitat.
This amazing adventure will take you by scenic plane ride to one of Alaska's most remote and uninhabited national parks: Lake Clark. Not only will you be assured of opportunities to view majestic brown bears pouncing on salmon or digging for clams but you will get to explore Lake Clark by lake boat, river jet boats and even some light hiking if you like.  There are gorgeous waterfalls, epic peaks, serene river streams around every bend and you'll want to have your camera ready to snap unforgettable shots of wild moose, wolves, and bears.
Lake Clark is within the Bristol Bay watershed, home to some of the best fishing on the planet. If you have a passion for fishing or have never touched a pole, we'll not only provide all of the gear you need but take you the best spots to catch Alaska salmon, huge Northern Pike, beautiful Grayling and more species.
This trips offers the complete Alaska wilderness experience which our guests count as one of their trips of a lifetime. Come visit us, relax in our luxury accommodations and see the real, authentic Alaska.
What You Will See

What You Will Experience

Alaska Brown Bears
Lake Clark National Park
Mt Redoubt Volcano (from the air)
Remote Waterfalls and Lakes
Port Alsworth, Alaska

The Alaska Wilderness
Wild Alaska Brown Bears
Scenic Plane Flights & Boat Rides
Lake Kayaking & Fishing
Luxury Lodging & Dining
This itinerary is a sample overview of the week. Actual daily activities will vary by your goals and weather conditions.
Day 1 – Flight* from Anchorage to Lake Clark
Today you will catch a scenic morning flight from Anchorage to Lake Clark. Enjoy flying over Cook inlet then over the dramatic Chigmit Mountains and into Lake Clark National Park. Move into your comfortable room in Stonewood Lodge and relax or opt for some afternoon fishing or exploring.
Day 2 – Alaska Brown Bear Viewing
Travel by bush plane to explore another area of the beautiful Lake Clark National Park and land right on coastal beaches to view the wild Alaska Brown Bears feeding on clams or salmon. Capture this amazing sight on camera and enjoy more scenic view from the air on the flight back to Stonewood Lodge.
Day 3 – Waterfall hike to Tanalian Falls
Those who are interested can partake in a short 3-4 mile (round trip) hike to Tanalian Falls. This hike is on one of the only trails within the park and affords great views of ponds, creeks, Lake Kontrashibuna and the roaring Tanalian Falls.
Day 4 – Jet Boating up Kijik River with optional Fly Fishing
Enjoy a thrilling ride up a nearby river to a  serene stream offshoot where anglers come from all over the world to fish Arctic Grayling. This is a great spot to relax, fish or just take photos of a the panoramic views.
Day 5 – Lake Tour by Boat
We will travel to the Northern section of this dramatic lake with stops for viewing stunning waterfalls and raging rivers. Look out for bald eagles, brown and black bears and moose along the lake as well as dall sheep on the cliffs of the mountains above.e.
Day 6 – Add-on Flight to Twin Lakes or Lake Kayaking
Enjoy an once in a life flight to Twin Lakes where you will land and explore the famous cabin of Dick Proenneke.  Dick buillt a cabin in the remote wilderness and lived there alone for 30 years and documented every day. Additional costs apply.
Day 7 – Fly from Lake Clark to Anchorage
After your final gourmet breakfast, pack up and enjoy a scenic flight back to Anchorage. Connect with your flights home in the evening or stay a night in Anchorage.
---
*FLIGHTS out to the lodge usually take place in the morning on the trips first day and midmorning on the final day. We recommend you fly in the night before the first day of the trip and schedule outgoing flights after 7 p.m. on the final day (or the following day).
Includes in the Cost

Excluded from the Cost

Flights* to & from the Lodge
(from Anchorage)
Bear Viewing Flight
All Meals & Lodging in Lake Clark
Daily Guided Fishing/Adventures
Fishing Rods, Lures & Flies
Park & User Fees

Airfare from Your Home to Anchorage
Extra Flying or Sightseeing Charters
Fishing License & Salmon Stamp (if desired)
Personal Clothing and Gear
Gratuities
 *Lodge Flights include a 50 pound allowance per person. A a fee of $0.50 per pound will apply to excess weight. These flights normally take place in the morning on the trips first day and midmorning on the final day.
We recommend you fly in the night before the first day of the trip and schedule outgoing flights after 7 p.m. on the final day (or the following day).
The Best Comfort and Adventure Around Our inland fishing trips are based out of our very own lodge in Lake Clark Alaska. This lodge is only accessible by float plane, yet offers a luxury accommodations and fine dining. Enjoy endless adventures by day and relax in comfort during the night. Learn more about Stonewood Lodge here.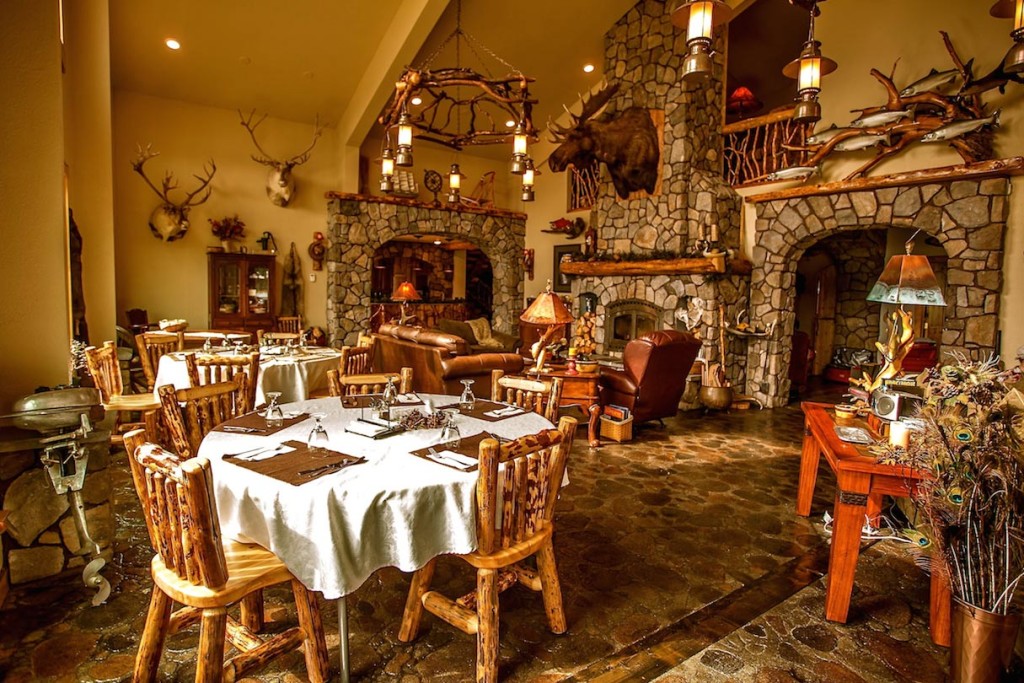 At Stonewood Lodge, you will find all the qualities of a world class recreational and sportfishing lodge. Our lodge has a classic yet rustic feel and offers 10,000 square feet of contiguous space and all modern amenities rarely found off of the road system in Alaska. Our guests stay in the main lodge and rooms have a queen and twin in the room as well as a private in-suite bathroom. The lodge has in floor heat thermostatically controlled, 24 hour electricity, telephone services, and Wifi. We do encourage some of our remote outpost camps for some overnight accommodations on site, such as while on the river and to shorten travel times to and from the lodge. These excursions are your choice as you decide your daily routine. There is an adjoining den, library, fly-tying area, office desk, sauna, and recreational room open for conferencing and debriefing. The Lodge capacity is 28 guests, however we generally settle on groups of less than 12 guests a week.
 
$7,500 per person – 7 days / 6 nights (minimum 2) 
Dates: May -Sept (call for available dates)
Location
Click on the red marker for description.
Your base camp for this trip is Stonewood Lodge is located on Lake Clark, just an hour flight Southwest of Anchorage. This 50 mile long lake is located in the heart of Lake Clark National Park and only accessible by plane.
View More Alaska Adventures    Combine trips for the ultimate package.