DURATION: 7 days / 6 nights (custom adjustments available)
TYPE: All Inclusive Luxury Lodge/Camp Adventure
SEASON: Summer
The perfect trip for those fisherman wanting to experience the best Alaska freshwater fishing around. If you want to fish the most species possible, including trophy Kings and Rainbow, then this trip is for you.
After a scenic flight to the pristine 50 mile long Lake Clark, you will move into our luxury lodge and fish for trophy Northern Pike, Lake Trout, Arctic Grayling, and Salmon species for part of the week. Each evening you can relax in the lodge, sharing your greatest fishing tales over gourmet meals with panoramic views of the surrounding landscape.  We'll catch and eat as much fish as you desire and accent the menu with other delicacies like King Crab, Dungeness Crab, Filet Mignon, Prime Rib, Alaska Shrimp, Steak, Halibut and wild game.
For the latter part of the week, we'll fly to our own private Swiftwater Camp on the Nushagak River.  This is an unbelievable location to fish for Kings and Silvers in season and hit Rainbows and Grayling as well as additional species.
Each night you will be treated to the finest wilderness camp meals and take in the fresh air and seemingly endless Alaska bush country.  Here there will be no competition, it's you and the river and of course our professional guides making sure you are taken care of and have the best opportunities and go home with an experience of a lifetime.
What You Can Fish

What You Will Experience

King & Silver Salmon
Rainbow Trout
Arctic Grayling
Arctic Char
Northern Pike & Lake Trout

Swiftwater Fish Camp
Trophy Lake and Stream Fishing
Scenic Plane Flights to the Lake
Lake Clark National Park
Luxury Lodging & Dining
This itinerary is a sample overview of the week. Actual daily activities will vary by your goals and weather conditions.
Day 1 – Flight* from Anchorage to Lake Clark
Today you will catch a scenic morning flight from Anchorage to Lake Clark. Enjoy flying over Cook inlet then over the dramatic Chigmit Mountains and into Lake Clark National Park. Move into your comfortable room in Stonewood Lodge and relax or opt for some afternoon fishing or exploring.
Day 3 – Fly Fishing
Take a memorable private jet boat ride up a nearby river and fly fish for grayling. Pack a lunch and make it a full day or head off to another fishing spot in the afternoon or evening.
Day 2 – Morning Lake Trout & Northern Pike
Fish all day on Lake Clark for lake trout, northern pike and other species.
Day 4 – Fly to Swiftwater Camp – Fish Salmon
After your flight to our remote camp get your pole out and enjoy catching trophy salmon and other native species.
Day 5 – Fishing at Swiftwater Camp
Enjoy a full day of fishing for salmon species, rainbow, grayling, char and more.
Day 6 – Flight back to Lake Clark
Fly back to Lake Clark and enjoy some afternoon or evening fishing.
Day 7 – Fly from Lake Clark to Anchorage
After you final gourmet breakfast, pack up and enjoy a scenic flight back to Lake Clark with you salmon packed on ice and ready for your flight back home.  Connect with your flights home in the evening or stay a night in Anchorage.
---
*FLIGHTS out to the lodge usually take place in the morning on the trips first day and midmorning on the final day. We recommend you fly in the night before the first day of the trip and schedule outgoing flights after 7 p.m. on the final day (or the following day).
Includes in the Cost

Excluded from the Cost

Flights to & from the Lodge
(from Anchorage)
Flights to & back from Switftwater Camp
All Meals & Lodging in Lake Clark & Camp
Daily Guided Fishing
Fishing Rods, Lures & Flies
Packing of Your Salmon (if desired)
Park & User Fees

Airfare from Your Home to Anchorage
Extra Flying or Sightseeing Charters
Fishing License & Salmon Stamp
Personal Clothing and Gear
Gratuities
The Best Comfort and Adventure Around Our inland fishing trips are based out of our very own lodge in Lake Clark Alaska. This lodge is only accessible by float plane, yet offers a luxury accommodations and fine dining. Enjoy endless adventures by day and relax in comfort during the night. Learn more about Stonewood Lodge here.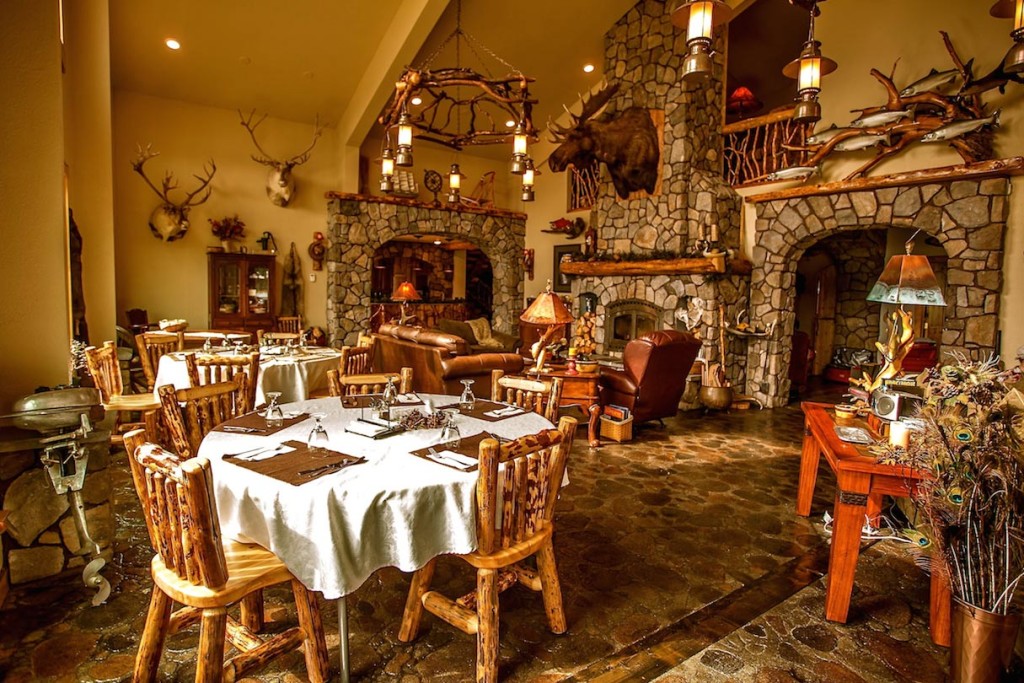 At Stonewood Lodge, you will find all the qualities of a world class recreational and sportfishing lodge. Our lodge has a classic yet rustic feel and offers 10,000 square feet of contiguous space and all modern amenities rarely found off of the road system in Alaska. Our guests stay in the main lodge and rooms have a queen and twin in the room as well as a private in-suite bathroom. The lodge has in floor heat thermostatically controlled, 24 hour electricity, telephone services, and Wifi. We do encourage some of our remote outpost camps for some overnight accommodations on site, such as while on the river and to shorten travel times to and from the lodge. These excursions are your choice as you decide your daily routine. There is an adjoining den, library, fly-tying area, office desk, sauna, and recreational room open for conferencing and debriefing. The Lodge capacity is 28 guests, however we generally settle on groups of less than 12 guests a week.
 
$8,500 per person – 7 days / 6 nights (base on double occupancy)

Dates: July-Sept (call for available dates)


Fishing Locations
Click on the red markers for descriptions.
This fishing adventure will take you to our Stonewood Lodge and our Swiftwater Camp on the Nushagak River.  The lodge is located on Lake Clark just an hour flight Southwest of Anchorage. This 50 mile long lake is located in the heart of Lake Clark National Park and both locations are only accessible by plane.
Swiftware Camp on the Nushagak River
Swiftware Camp on the Nushagak River 
Stonewood Lodge in Lake Clark, Alaska
Stonewood Lodge in Lake Clark, Alaska
View More Alaska Adventures    Combine trips for the ultimate package.